Français
---
Microphones professionnels fabriqués exclusivement pour Gotham Audio
Forts de plus de 63 ans d'expérience et de savoir-faire dans l'utilisation et application de microphones de toutes sortes, nous avons développé une série de microphones é usage professionnel en étroite collaboration avec nos partenaires. Nous craignos la comparaison avec des produits établis et à prix élevé de la concurrence. Nous avons un bon rapport qualité-prix sans compromettre la qualité du son et les performances. Nous vous invitons é tester nos microphones et é les écouter.
Nous attendons vos commentaires avec impatience. Nous travaillons d'arrachepied pour élargir notre gamme de produits,
mais nous proposons initialement des microphones serre-tête de haute qualité.
Ceux-ci sont maintenant disponibles
.
Les microphones sont également compatibles avec notre nouveau système sans fil WM110.
Lien:
Système audio sans fil WM110
---
Die Verkaufspreise sehen Sie in den Produktedetails oder als PDF Preisliste im download
Interessante Konditionen für Professionelle Anwender(Studios), Händler/Wiederverkäufer, Vermietdienstleister. Exportkonditionen für Händler und Distributoren. Nehmen Sie mit uns Kontakt auf.
---
Verkaufsbrutto Preisliste CHF (Schweizer Franken)
---
Retail Pricelist English in CHF (Swiss Francs)
Find our retail pricelists in Download (Link English). Attractive reseller and professional studio discounts avialable. Apply for dealership with a simple email to info@gotham.ch
---
---
---
Les versions suivantes sont disponible:
-

2 Microphones structures:
Directionnel (88 Cardioïd) ou Omni (66 rond)
-
Directionnel (Cardioïd)
avec Gotham capsule (88) GMH
C88
xxx
-
Omnidirectionnel
avec Gotham capsule (66) GMH
O66
xxx
-
2 couleurs disponible
(Beige/Peau/Chair "
F
", Noir "
B
") GMHxxx
F
xxxx, GMHxxx
B
xxxx
-4 different câbles avec connecteurs (Microdot pour adaptateurs, 4pin miniXLR, 3.5mm Jack, et 3pin Lemo)
GMHxxxx
03
(Lemo3)
GMHxxxx
10
(TA4F miniXLR 4pin Femelle)
GMHxxxx
34
(3.50 mm Jack)
GMHxxxx
00
(Microdot Câble pour Adaptateurs)
---
Terms:
Ex works Dietikon in CHF (Swiss Francs),
Indicated Prices are per piece, including Swis VAT
7,7 %
. Subject to changes w/o prior notice. .
Inquire here (Email):
Dealer and export prices are quoted in short notice.
Please send email.
---
Our Headset Microphones are modular designed. You can simply change the cable assembies in case of failure of the wire and/or you need a diffrent connection to your peripherie. We can offer as basic version an interconnect to your transmitter: 3.5mm Jack, TA4F Mini XLR, Microdot
(for Adapters)
and Lemo 3Pin Hi-Endversion.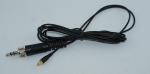 Link Cables:
---