2.4 GHz wireless Audio System
Now available
Ultracompact wireless audio transmission system for microphones and instruments in license-free 2.4 GHz digital ISM Band. Noise-free, worry-free transmission on 20 selectable channels. 80-100m reach. The transmitter (white) is featuring a built-in microphone and a 3.5mm connector for your audio source from a smartphone, MP3 player, PC/ laptop or your instrument source (level adjustable). The receiver has a 3.5mm jack connector to bring your audio signal (line out) to your PA system, speaker and mixing console. Built-in batteries (chargeable with any type-C USB charger 5vDC) for a running time for up to 5 hours)
Attractive conditions for resellers are available. Request the conditions for pronet, reseller and distributor by email.
(Contact)
Our Gotham
Hi-End Headsetmicrophones
are also working perfect with this wireless system!
Type
WM110

Wireless Audio System 2.4 GHz

Retail Price
CHF



WM110 system is including:
WM110T (Transmitter) with built-in microphone (white)
WM110R (Receiver) with 3.5mm Jack Audio Line Out (black unit)
20 Channels selectable. 80-100m reach.
Built-in rechargeable battery for 5 hours useage (5vDC)
Zip case with accessories. (charge-cable, audio cable 3.5mm. Adapter 3.5mm-6.3mm
Additional microphones for transmitter optional see link





WM110 Wireless Audio System Datasheet



CHF 749.50



External Microphones to WM110 optional available




Link
..
---
---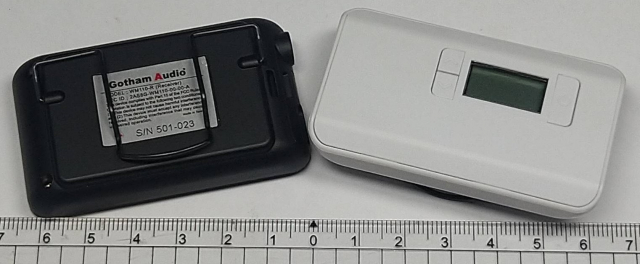 ---
WM110 Transmitter:
---
WM 110 Receiver:
---
Terms:
Ex works Dietikon in CHF (Swiss Francs),
Indicated Prices are per piece, including Swis VAT
7,7 %
. Subject to changes w/o prior notice. .
Inquire here (Email):
Dealer and export prices are quoted in short notice.
Please send email.
---
Die Verkaufspreise sehen Sie in den Produktedetails oder als PDF Preisliste im download
Interessante Konditionen für Professionelle Anwender(Studios), Händler/Wiederverkäufer, Vermietdienstleister. Exportkonditionen für Händler und Distributoren. Nehmen Sie mit uns Kontakt auf.
---
Verkaufsbrutto Preisliste CHF (Schweizer Franken)
---
Retail Pricelist English in CHF (Swiss Francs)
Find our retail pricelists in Download (Link English). Attractive reseller and professional studio discounts avialable. Apply for dealership with a simple email to info@gotham.ch
---
WM110 Wireless Audio System Datasheet